Sometimes at work, things become disorganized, equipment is misplaced, and valuable time and attention are diverted. As a result, some items need to be moved, or the workspace needs rearranging. Unfortunately, it is quite simple to lose and misplace tools in a situation like this. Although this is a widespread issue today, a portable workbench acts as a solution. Read More…
Portable Workbenches
Portable workbenches are non-stationary, task driven workspaces designed to provide efficient and mobile units in a variety of industrial, commercial, and residential environments.
A transportable work surface used for various tasks and environments, such as building and maintaining various industrial and commercial items, is referred to as a portable workbench, worktable, worktop, or bench. It can be identified by its flat, smooth surface design, which has a variety of attachable and removable components to support workflow improvements and productivity.
Due to its adaptability, ability to be used in any workspace, and potential to increase value for a company or organization, a portable workbench is a fantastic tool for various tasks. For example, one might have a workbench for personal use in a garage, workshop, or even a small art studio. Other uses for portable workbenches include:
A temporary assembly table
A convenient means of moving materials from one job to another
A straightforward saw stand
A straightforward router table
Portable Workbench Manufacturing Process
Workbenches are often built of wood, occasionally from plastic or metal, and their legs can be adjusted to suit various tastes. Depending on the model, some portable workbenches have drawers for additional storage in addition to other useful features like a mounting plate for a vice or clamps. Using portable workbenches is the best method to keep the workspace organized without taking up too much space.
Types of Portable Workbenches
When thinking about portable workbenches, those that fold up and fit in a truck's bed are the first that come to mind. However, even though this is a portable workstation, more sophisticated models with various features help with production operations that can be acquired at a nearby hardware store.
There are, for instance, 5 main categories of workbenches:
Industrial maintenance workbenches
Portable and folding benches
Metalworking workbenches
Woodworking models
Workbenches for electronics and cleanrooms
Industrial Maintenance Workbenches
These workbenches are intended for heavy-duty applications that must survive challenging circumstances and constant use. Therefore, these workbenches have been designed to withstand impact from tools and machines without bending or collapsing. In addition, industrial workbenches are designed to hold high load requirements.
Portable And Folding Benches
Portable workbenches are a relatively frequent workbench useful for workers who must continually shift their tools. In addition, these types are often employed for lighter applications that require simple workstation movement. These benches are made to be easily incorporated into workstations without a fixed work surface. They are typically built with collapsible legs and caster wheels.
Metalworking Workbenches
Metalworking workbenches often have a high load resistance because they are made for heavy, demanding applications. As a result, they are exceedingly solid, strong, long-lasting, and stable. These workbenches are used, for instance, in fabrication facilities, to shape metal by welding, light casting, and grinding. In addition, vises and clamps are frequently built onto metalworking workbenches to hold metalwork components.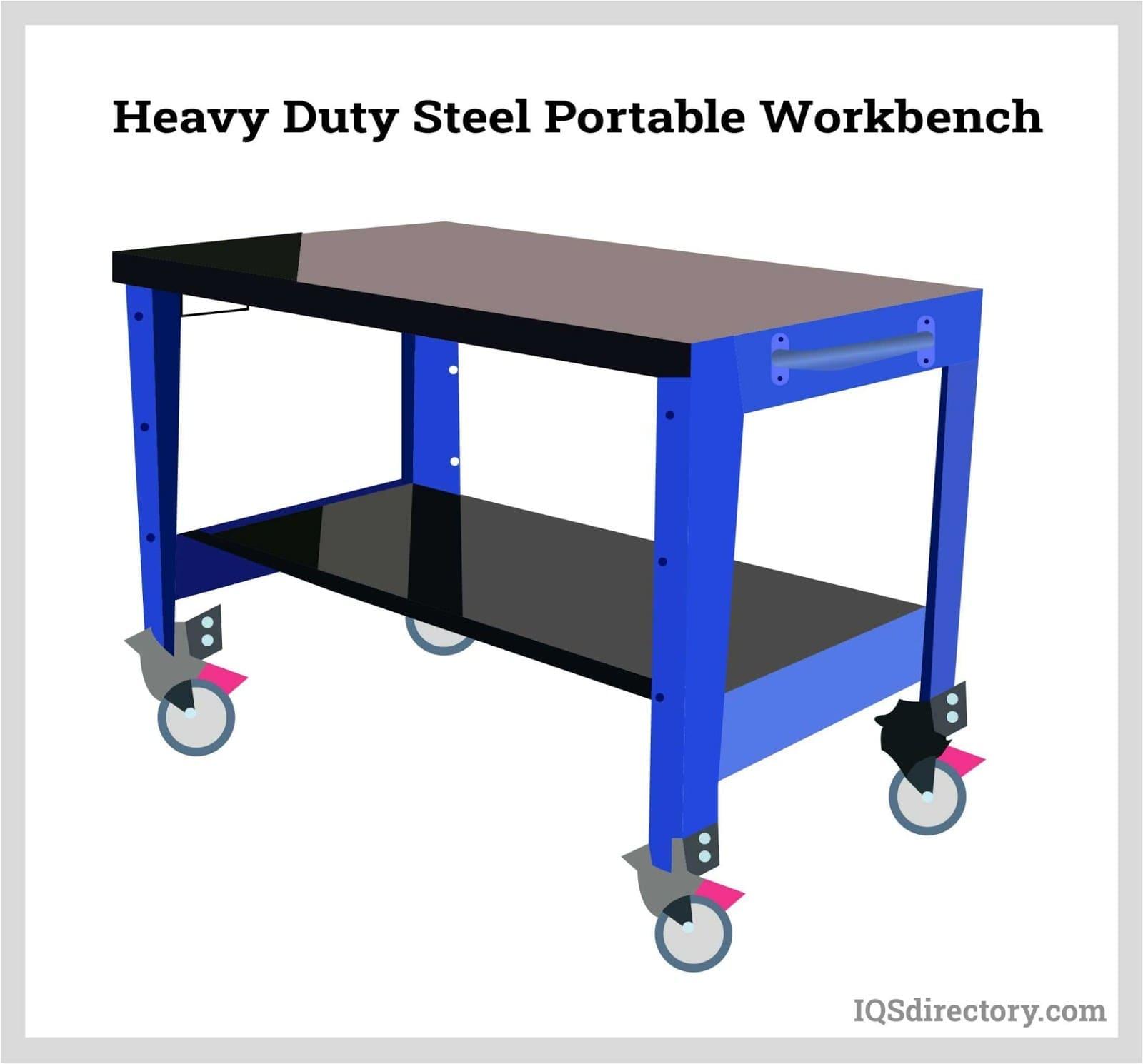 Woodworking Workbenches
Workstations for shaping and constructing wood objects are called woodworking workbenches. They come in a variety of sizes, with larger benches being used for more challenging projects involving more important components (e.g., building staircases, assembling framing, and planning surfaces).
Some workbench types are placed next to an electrical outlet to power one or more tools. More electrical outlets are required for portable workbenches that can be used with many instruments, including computers. A mobile or movable workbench's primary purpose is to move to a location and finish a task there. Therefore, workers will probably need a record of when the work began and finished. A movable desk with several electrical connections and computer access is suitable for the modern manufacturing environment.
Advantages of Portable Workbenches
They are multipurpose
They have a wide variety
They have a storage capacity
They have mobility
Disadvantages of Portable Workbenches
They can be costly
Sometimes mobility isn't necessary
Too many moving parts mean they can break
To maximize utility, one has to add more components to it
Conclusion
A workbench is an essential piece of equipment in every workshop since it offers a stable platform for working on top of storage space with tools and materials. The portable workbench's adaptability makes it helpful in various applications, from the assembly of small and delicate components to the maintenance of heavy-duty industrial equipment.
Takeaway key points:
A workbench is multipurpose
There are different types
Its mobility sets it apart
Choosing the Right Portable Workbench Manufacturer
To make sure you have the most beneficial outcome when purchasing portable workbenches from a portable workbench manufacturer, it is important to compare at least 5 companies using our list of portable workbench manufacturers. Each portable workbench company has a business profile page that highlights their areas of experience and capabilities and a contact form to directly communicate with the manufacturer for more information or request a quote. Review each portable workbench company website using our patented website previewer to get an idea of what each company specializes in, and then use our simple RFQ form to contact multiple portable workbench businesses with the same quote.
Portable Workbenches Informational Video